MENTER MOCH CYMRU & WALES YFC
PIG FINISHING INITIATIVE 2022
In a bid to encourage the next generation of pig keepers and to get farmers thinking about pigs as a viable diversification option, six Wales YFC members were awarded five weaners each as a steppingstone into the pig industry. These members were: Rebecca from Fishguard YFC, Pembrokeshire, Carys from Llangadog YFC, Carmarthenshire, Rhys and Jack from Gower YFC, Glamorgan, Frances from Sennybridge YFC, Brecknock, and Leah & Alis from Nantglyn YFC, Clwyd.
---
Menter Moch Results
Menter Moch Singles
1st – Rebecca, Pembrokeshire YFC
2nd – Leah & Alis, Clwyd YFC
3rd – Frances, Brecknock YFC
4th – Carys, Carmarthenshire YFC
5th – Jack & Rhys, Glamorgan YFC
Menter Moch Pairs
1st – Leah & Alis, Clwyd YFC
2nd – Rebecca, Pembrokeshire YFC
3rd – Frances, Brecknock YFC
4th – Carys, Carmarthenshire YFC
5th – Jack & Rhys, Glamorgan YFC
The Menter Moch competition not only involved showing their pigs at the Winter Fair, but it also included a training programme, worth 40% percent of the overall competition.
Menter Moch Supreme Champion
– Rebecca, Pembrokeshire YFC
After all of the Menter Moch competitions were complete, the winners of both the Pairs (Leah & Alis) and Singles (Rebecca) classes were entered into the Overall Winter Fair Championship and it is a delight to announce that some of our members come away victorious!
Overall Winter Fair Reserve Champion
---
Member Spotlights
The winners faced the challenges of rearing their own pigs as they prepared for the Royal Welsh Winter Fair. Here are a few words from Carys as she was selected to receive the weaners;
My name is Carys and I'm a member of Llangadog young farmer club in Carmarthenshire. I have been brought up on a beef and sheep farm in Carmarthenshire. I saw the opportunity of rearing a small number of pigs, from weaner to finishing, as a learning opportunity in another sector which will broaden my knowledge base before venturing into the sector on a larger scale. The opportunity to keep another enterprise will also bring a greater enterprise mix to the farming business. The pigs are kept indoors in a well-ventilated polytunnel. The poly-tunnel was initially set up to house sheep during the lambing season but has since become a well suitable home for the pigs. I was able to keep an eye on the piglets 24 hours a day, 7 days a week due to the existing camera system in place.
The Winter Fair is getting closer which means preparation is well underway. I am cleaning and walking the pigs daily with the board and stick in the hope of preparing both I and the pigs ready for the competition. Preparing for the Winter Fair is new to me as I have no previous experience with showing animals.
My experience with the competition so far has shown to be an eye opener. The pig industry has broadened my knowledge massively and have since realised that the pigs are great characters. I am hoping to sell the meat in boxes of full, half, quarter or half a quarter pig with joints, pork belly, chops and sausages. When the pigs came, I set up a Facebook page to advertise my business venture, calling it Moch Cadog.
My future plan is to keep one of the guilts on for breeding and to hopefully sell more meat boxes in the future.

Carys, Llangadog YFC, Carmarthenshire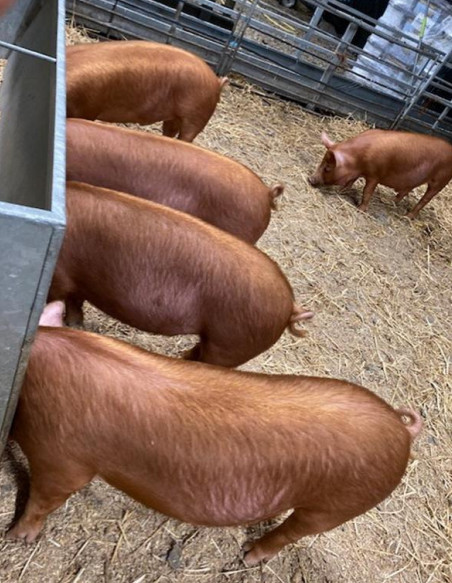 Prior to the Winter Fair, Frances of Brecknock told Wales YFC;
From a young age, I have been heavily involved with our family beef and sheep farm set in the heart of the Brecon Beacons. I am delighted to have been selected for the Menter Moch Cymru and Wales YFC Pig Finishing Competition and it has been a fantastic opportunity to seek support and mentoring to build on my current basic knowledge of pig rearing and to develop my skills in marketing.

The competition has given me the confidence and opportunity to test the suitability of a pig enterprise on our family farm whilst showing the benefits of an alternative source of income. This is particularly key at a time where we are seeing a reduction in subsidy payments and has allowed me to focus on developing areas on the farm which are currently underutilised as I am rearing the pigs in part of our woodland which is not stock-excluded under our Glastir contract.

The woodland rearing of the pigs also provides me with a USP for direct selling the meat, alongside the rare-breed aspect where Saddlebacks are my chosen breed which will support me putting my marketing training into practice! So far, I have developed a logo and social media pages to start attracting some sales.

I am really enjoying being part of the competition, and have relished the numerous opportunities which have come with it including completing my Welfare of Animals in Transit (WAIT) certification, and am looking forward to attending a two-day butchery course, and showing at the Winter Fair at the end of the month!

Frances, Brecknock YFC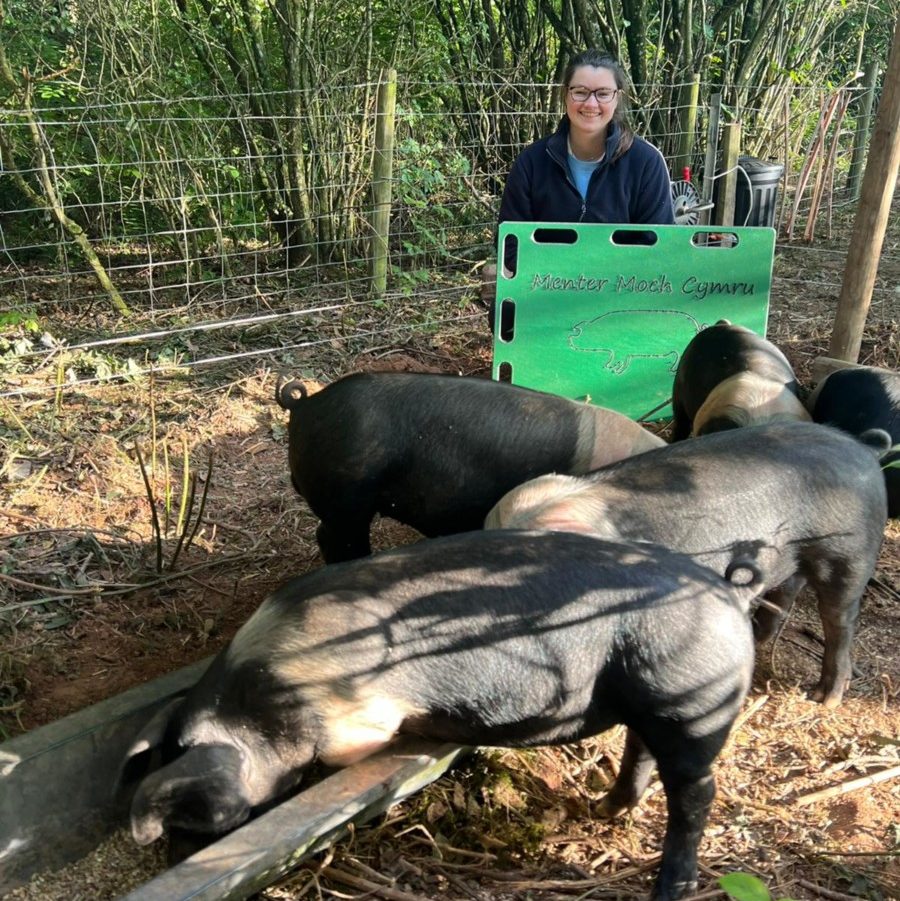 ---
After a busy few days at the Royal Welsh Winter Fair, it was Rebecca that Judges Ela and Daniel hailed as the Overall Menter Moch Champion. Here is what Rebecca told Wales YFC in the weeks leading up to the competition;
Being keen to diversify on the family farm, but unsure which type of diversifying to undertake, I felt that the Menter Moch and YFC pig finishing competition sounded like a fantastic way to establish a new enterprise on the farm whilst having plenty of support and training throughout.

I decided to adapt a shed usually used to rear calves to rear the pigs on an indoor system. The pigs are fed rearer pellets on an ad-lib system and I have been giving them some waste milk.

In order to prepare for the show, I have been handling the pigs regularly for them to get used to being controlled with the board and stick.

I have thoroughly enjoyed being part of the competition and it has really made me consider pursuing the pig enterprise on the farm permanently. All the training sessions with various people within the industry has been invaluable. I cannot wait now to compete with the pigs at the Winter Fair and to see all the other competitors' pigs.

Rebecca, Fishguard YFC, Pembrokeshire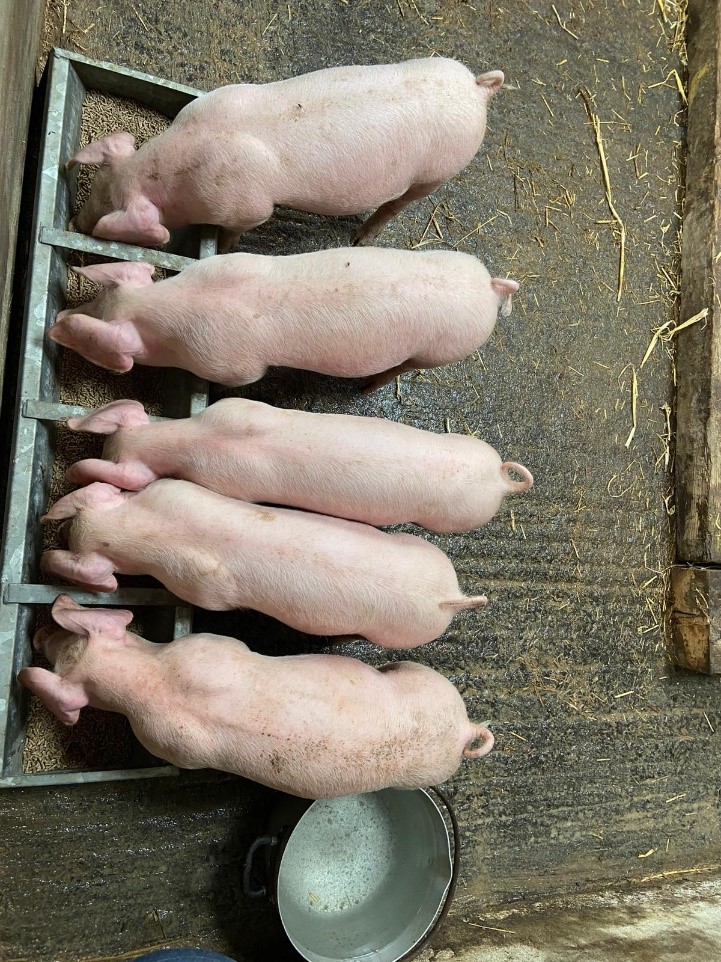 ---
Menter Moch Cymru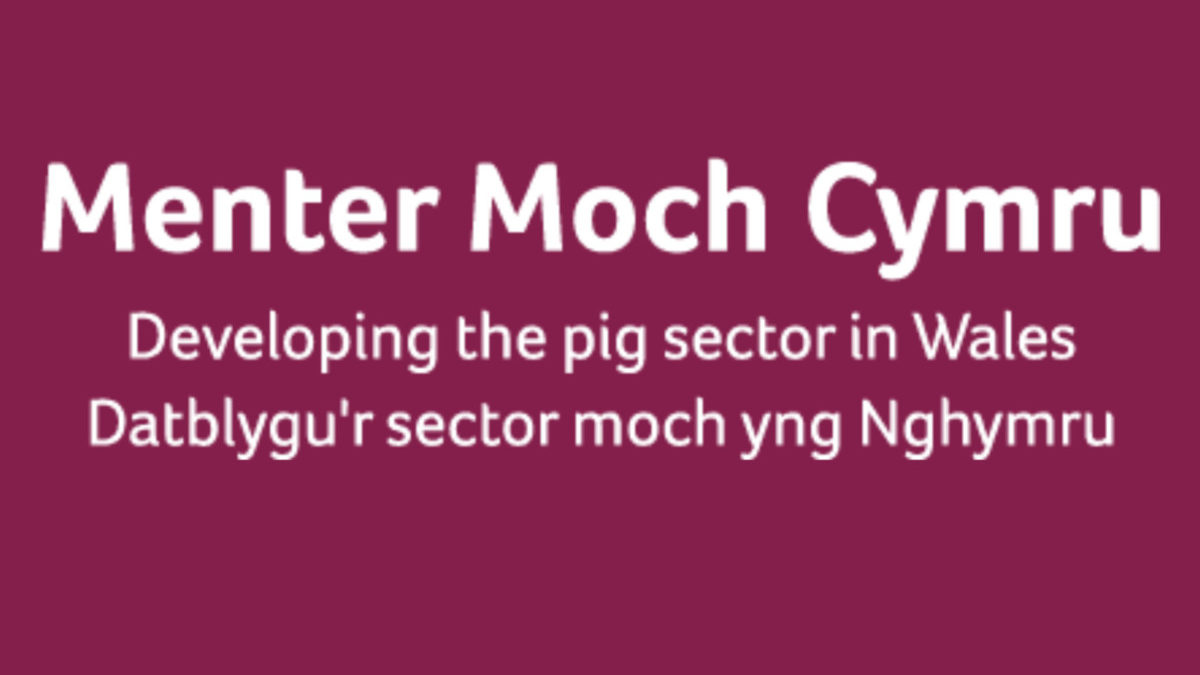 This competition could not be made possible without the continued support of Menter Moch Cymru.