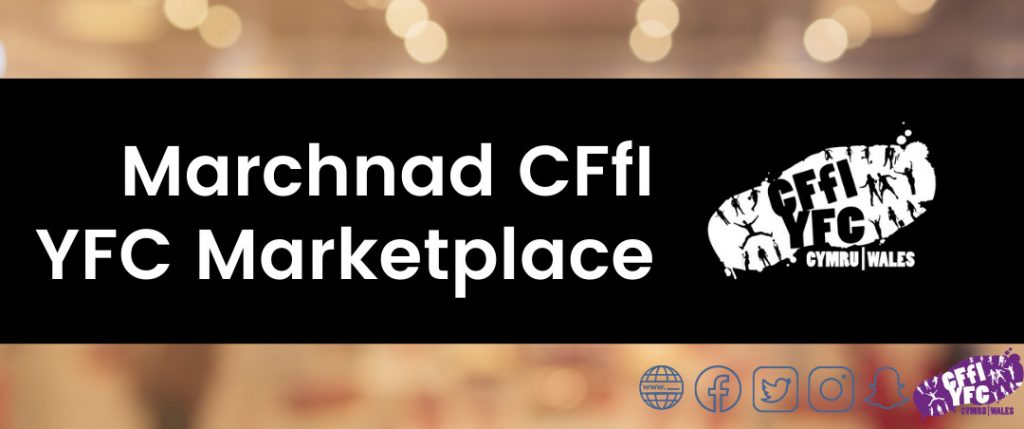 YFC Marketplace
Welcome to the YFC Marketplace. The one stop shop for promoting all the wonderful businesses ran by YFC members. From homemade baked goods, to fabrication; jewellery to a gin bar – we have it all.
Please browse through the businesses below, and click on the logos to be directed to their business pages.
---
Gifts
Sara Lleucu Textiles
Designing and creating bespoke paintings and hair accessories inspired by the beauty of the Welsh Countryside, from her home in Ceredigion.
Prints, original paintings and textiles are available on Etsy, so head over for a sneak peak at Sara Lleucu Textiles collection today.
Elin Angharad
Looking for a unique and bespoke leather accessory to compliment any look? Then Elin Angharad is the place for you.
Creating handmade, unique leather accessories from her workshop in Machynlleth. Elin specialises in creating bags, although a variety of products are available to purchase from her website. Customers are also offered design sessions to create something truly bespoke.
Cwmwl 9
Cwmwl 9 is an up and coming business, creating a variety of handmade cards for all occasions, predominantly through the medium of Welsh.
Cwmwl9 also offers a variety of Welsh prints for the home through their Etsy shop.
Wool & Raddle
Handmade 100% Welsh Wool Yarn and felted key rings, with more products in their development stage.
Wool & Raddle use their platform to celebrate wool and its amazing qualities, and to document the creative process from Raw Material to Finish Product.
Sian Angharad
Are you wanting to treat yourself or a loved one to some new jewellery during this peculiar time? Then take a look at Sian Angharad's collection. Creating handmade polymer clay jewellery in the heart of Mid Wales.
From clip-on earrings to hoops, statement jewellery to simple necklaces – we have it all. Head over to our Instagram or Etsy page to see what we have to offer.
Miri Crosho
Creating a variety of hand crochet goods. From gifts for new-born's and blankets, to headbands and hair scrunchies.
So why not treat yourself or a loved one, and head over to Miri Crosho's Instagram page or Etsy shop to see the full range of products on offer.
Celf Ff.R Art
An exciting, new business located in North Wales. Celf Ff.R Art creates bespoke and original slate pieces, acrylic paintings, prints and cards inspired by agriculture and the natural world around us.
Urban Garden Crafts
Urban Garden Crafts is a small eco friendly business, aimed at encouraging individuals to grow a variety of fresh produce from their home.
Partnered with Ty Poeth Farm, products and grow kits (sunflowers, herb collection, chillies and tomatoes) are available to purchase from their farm shop or by clicking the image above.
Wreaths by KS
Based in Carmarthenshire, Wreaths by KS is a newly established business creating bespoke wreaths (both real and artificial ones are available).
The base for the wreaths handmade by KS are grapevine & willow and are dressed depending on the customer's needs and vision. So be sure to head over to their social media and Etsy page to see what they have on offer.
The Cosy Barn
Drawing inspiration from the family dairy farm and the local countryside, Hannah, The Cosy Barn designs and produces quality kitchen and home textiles for modern country homes.
Designs are drawn by hand and then digitally printed onto fabric before being made up into products. Take a look at the full collection by clicking the above logo.
L P-D
Beautify your home with one of Lowri P D's unique hand carved gifts. From coasters to chopping boards, bespoke children's boxes to hope plaques. There's something to suit everyone.
And if that isn't enough to tempt you Lowri P-D also creates and personalises sterling silver pendants – so why not head over to see what she has to offer? And treat yourself today.
Crefftau'r Dyffryn
Sewing a variety of buntings suitable for any celebration and occasion. Each item is created in the heart of mid-Wales, and can be personalized depending on customer's needs.
For more information, and to see the wonderful pieces on offer check out Crefftau'r Dyffryn on social media and Etsy.
---
Food & Drink
Alfies Cakes
Offering an exciting range of homemade baked goods in the heart of Montgomeryshire is Benbows Cakes.
From traditional cakes to cheesecakes and fruitcakes. Each can be tailormade for any occasion.
Cacennau
Mirain Haf
Providing a variety of homemade cakes for any occasion.
Cacennau Mirain Haf also create savoury and sweet platters; and offer an afternoon tea service delivered to the door.
Cacs Es
Cakes, brownies and many more delicious goodies handmade for all occasions such as birthdays, anniversaries, weddings or christenings.
Take a sneak peak at all of the delicacies Cacs Es has to offer by clicking on the logo above.
Gwarffynnon
Milk
A pasteurised milk vending machine at the centre of Lampeter, Ceredigion.
The milk is produced and pasteurised using sustainable energy from our wind turbine and has one food mile.
Local produce also sold through a refrigerated vending machine at the Milk Bar on Market Street.
Garth Farm
A working hill farm at the highest point of Cardiff. Selling boxed meat direct to customers. We cater for marquee weddings, and are in the process of building holiday lets on the farm.
We breed and finish Welsh Black Cattle, South Welsh Mountain and Black Welsh Mountain sheep, as well as finishing Welsh Pigs.
The Shepherd's
Crook
The Shepherd's Crook offers a full mobile bar service for all occasions.
A converted horse trailer transformed into a mobile bar – with a new addition: The Shepherd's Crook Bakery in the pipeline.
Porcyn
As winners of the 2020 "Menter Moch" competition – Porcyn now offer meat boxes to customers from the family farm. The pork and bacon meat boxes are designed to suit the customer: 2 / 4 / 6 person box.
Keep your eyes peeled for exciting developments in the future.
Cegin Derw
An exciting new small Home Baking Business located in the Heart of Pembrokeshire. Traditional bakes including Cakes, Bara Brith (loaf & miniature with a flavour twist), Cookies, Brownies and more. So what are you waiting for?
Click on their logo to be transported to Cegin Derw's business page, and order your box of baked goods and afternoon teas today.
---
Service
Dylunio G.R.E
Designs
Offering a variety of services that covers every aspect of metal work; including signs, clocks, trivets, coasters and much more.
Items may be personalised using a CNC plasma cutting machine.
---
JOIN THE YFC MARKETPLACE
Are you a YFC member running you're own business?
Would you like to be featured on our Marketplace?
---
Not a YFC Member?
Don't worry – there's still time to join a YFC club in your local area.
With a 157 clubs located throughout Wales – find a club near you today by clicking on the image right.
And join the largest rural youth organisation in Wales today