The Big Farming Quiz Series
This event is no longer available.
The Big Farming Quiz by Wales YFC will run over four Sundays during July in partnership with NFU Cymru, FUW, HCC & The Federation of Welsh Grassland Societies.
The rounds will take place as follows;
5th July – NFU
12th July – Federation of Welsh Grassland Societies
19th July – FUW
26th July – HCC
There will be round winners but also an overall winner at the end of the 4 week period.
You are welcome to join any single round but for the chance of winning the overall spot, it's best to join them all!
To join the quiz you will need the following;
💻 Access to Zoom on one device
📱 Access to Kahoot! on another device
If you don't feel comfortable joining the zoom call you can always follow the host through the Facebook live on the event page, as long as you have access to Kahoot! also, as this is how you supply your answers.
Facebook Event to join https://www.facebook.com/events/735501763928294/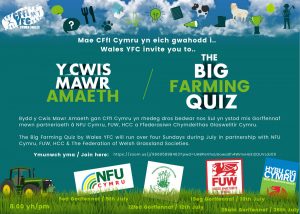 NFU Cymru


July 5, 2020




8:00 pm - 10:00 pm

Federation of Welsh Grassland Societies


July 12, 2020




8:00 pm - 10:00 pm

FUW


July 19, 2020




8:00 pm - 10:00 pm

HCC


July 26, 2020




8:00 pm - 10:00 pm