International

International Programme
2022-23
Your journey starts with Wales YFC … where will you go?
The YFC Wales International Program gives our members unforgettable opportunities to travel the world and learn about cultures and life in other countries. You can travel as an individual, as a pair or as a group!
Learn about cultures, discover new experiences, improve your confidence and make friends for life!
Wales YFC International Selection Day was held on Sunday the 4th of December 2022. After a long day of interviews, here are the lucky members who were selected to travel with Wales YFC!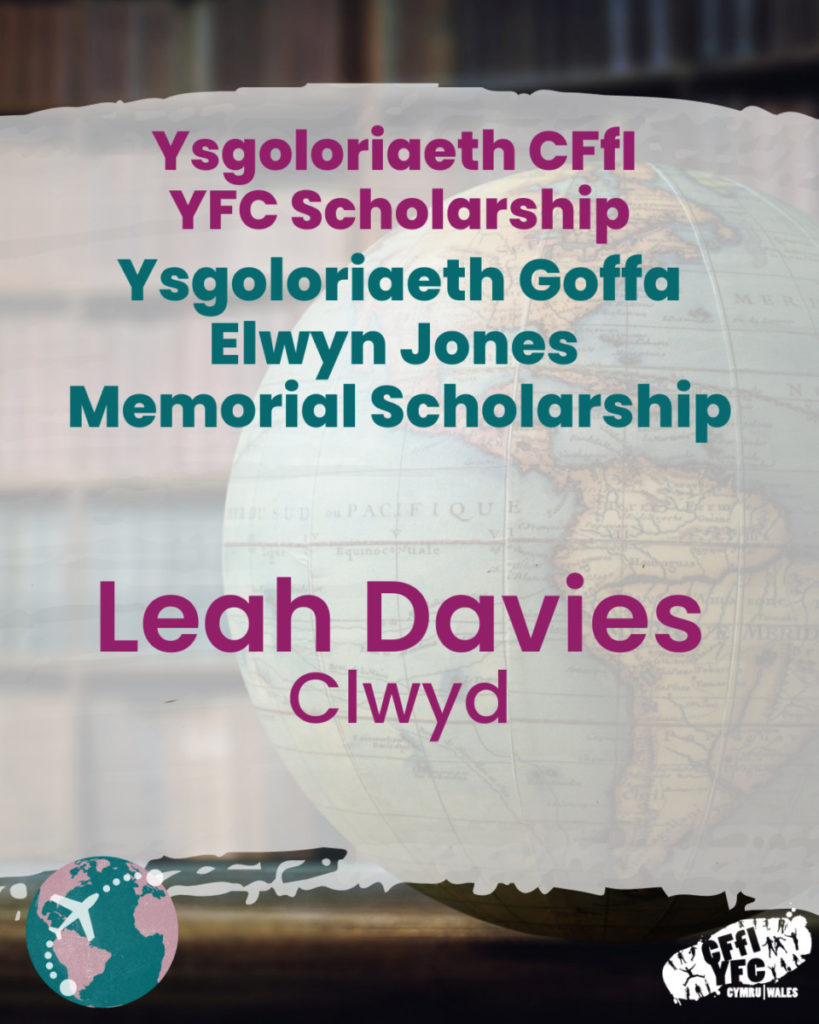 2021-22 Blog
The 2021-2022 International Calendar was jam-packed, with a wide range of trips on offer, from interrailing and sailing to safaris and European Rally's, there's something for everyone in our international programme!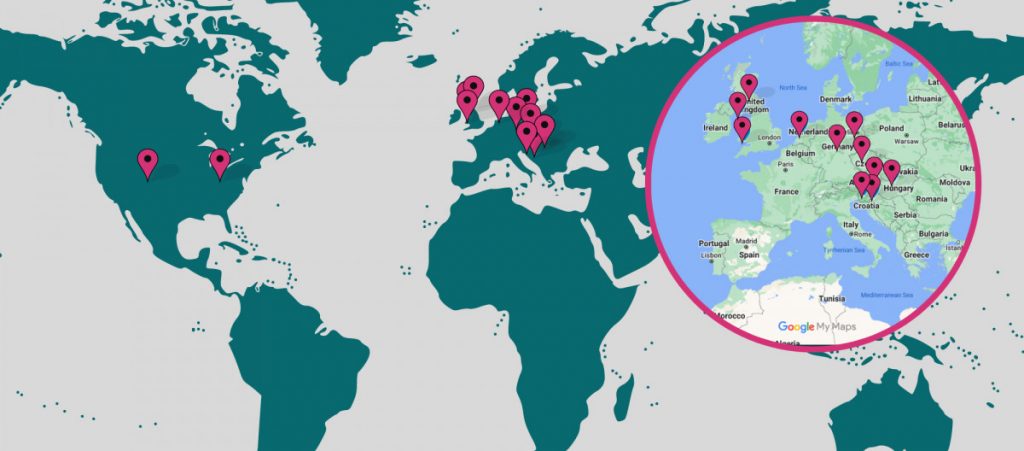 ---
Colorado Trip 2022
I am coming to the end of a three-month trip in Colorado where I have spent time with 3 different families in three different areas of the state. I started my travels in and around Boulder where we hiked the flatirons, travelled to Red Rocks Amphitheatre and I had my first taste of Colorado style pizza, which is pizza crust drizzled in honey! We also spent a weekend camping in the Rocky Mountain National Park which was a great experience.

My second host family were located a few hours south of Boulder in a town called Rye. The Colorado State Fair was in the nearby town of Pueblo so I spent a few days eating American fair food, getting to know the 4H exhibitors and attended my first rodeo which was a great experience!

I also spent time out with the farmers on the Mesa which is an area that mainly grows pinto beans, melons, corn and the popular Pueblo chili. Water (and the lack of it) is the main issue facing these farmers as they rely on a good snow pack on the mountains during the winter to sustain them during the summer. There is also complex water rights issues in Colorado that benefit older farms and ranches which makes it extremely difficult for new entrants.

I am now with my third and final host family located in Rifle. I have spent time out with beef farmers gathering cattle on horseback, learning about the benefits of virtual fencing for ranchers on 10,000+ acres and enjoying the natural hot springs at Glenwood! I have thoroughly enjoyed my experience so far and can't believe the trip is soon coming to an end!"
Sioned Davies, Brecknock YFC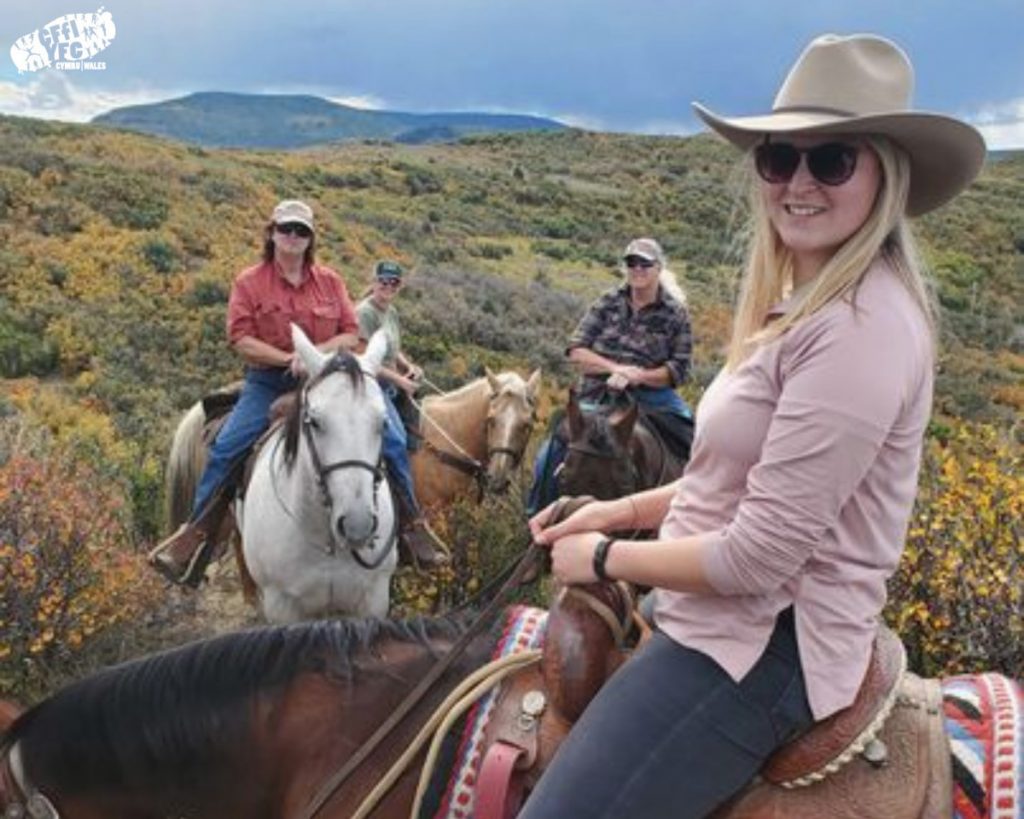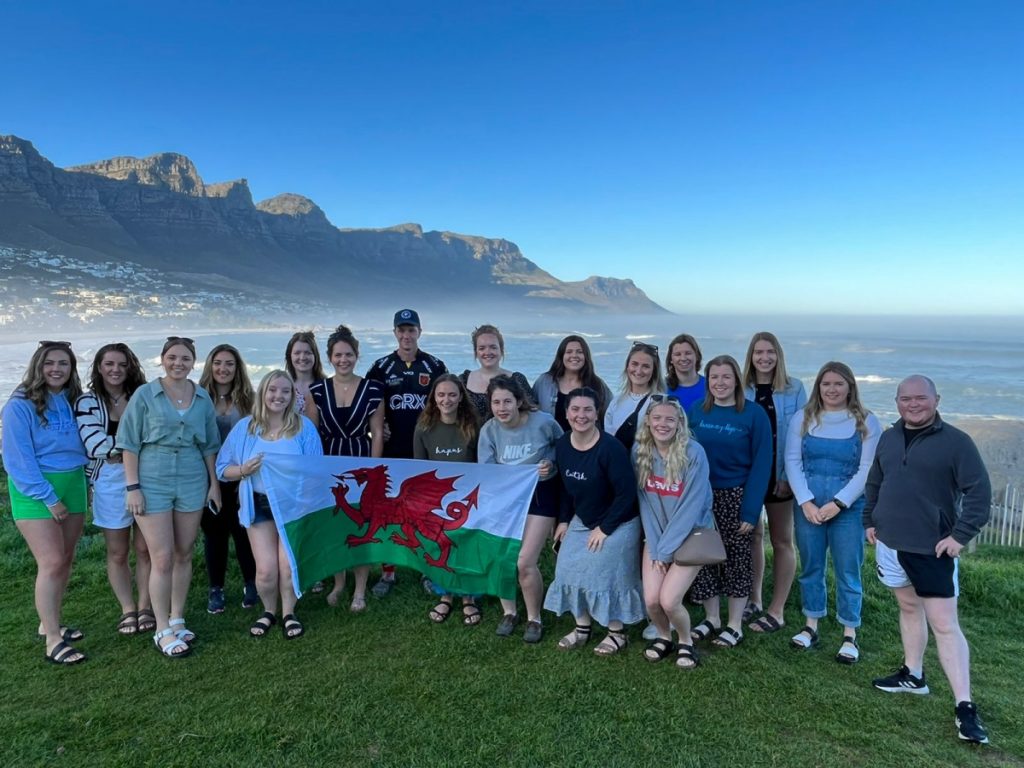 Safari, South Africa 2022
I have never had 12 days full of so much fun, and never before has a series of 12 days been so unforgettable! South Africa, Cape Town, Kruger National Park, Victoria Falls, Zimbabwe, Zambia, Victoria Falls, Chobe, Botswana – just some of the sights I was lucky enough to see on a 12 day trip to South Africa with YFC Wales .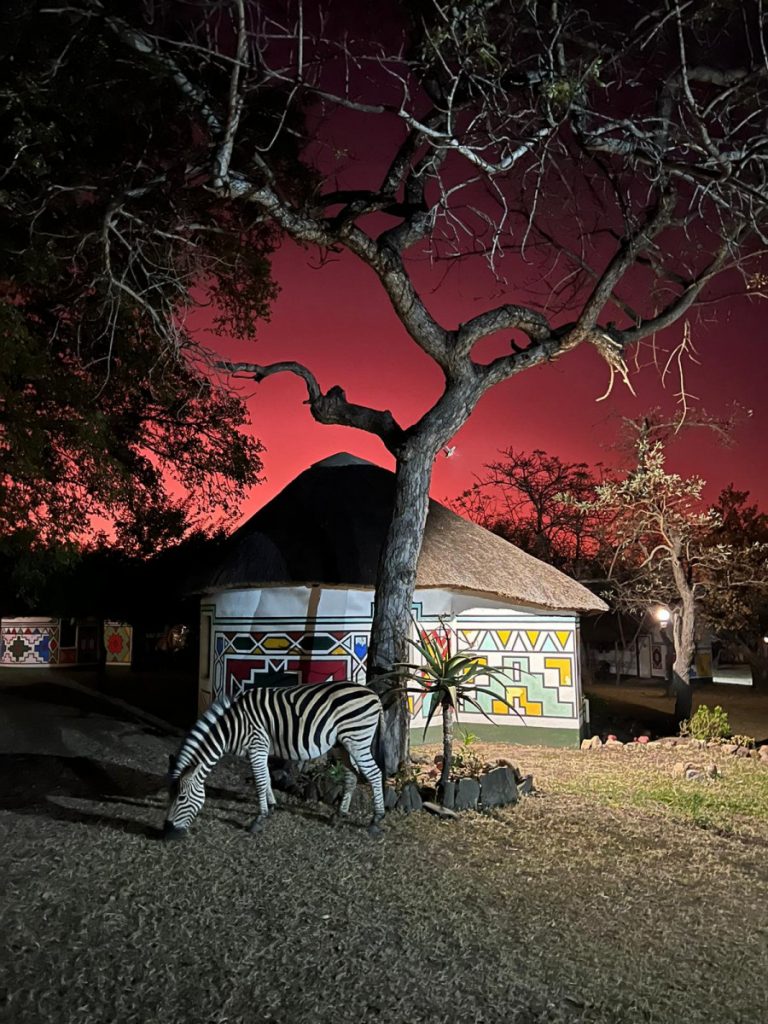 From the 19th-31st August, myself and 19 other Wales YFC members set our sights on the trip of a lifetime. From the moment we landed in the country I knew this was going to be a busy and fun filled trip. While half of the new gang walked up table top mountain to get the view of a life time, the rest of us opted for a relaxed bike ride along the sea front of cape town, sampling the local delicacies at every stop! The remainder of our time in Cape Town consisted of lots of food, socialising and relaxing! Whilst in Cape town we also visited some hard-hitting parts of the country, with a tour around the township, something never to be forgotten, namely the slums people lived in and the high spirits they still carried. We were also fortunate enough to visit the Amy Foundation, a charity which supported young black people to gain skills to start their own businesses or go out to get jobs, where otherwise they may end up in very different situations. The first animal sighting we had in South Africa, and maybe one we really didn't expect was a colony of penguins at boulders beach – talk about a cuteness overload!! And what better way to round off our time in Cape Town than visit a vineyard and taste their famous wine, with a view even more delicious than the liquid in the glass.
The next stop of our trip was Kruger National Park, here we arrived at our lodge where, casually, there were zebra's and baboons roaming around – fancy waking up to a knock on your door by a baboon!! Some of us really had to watch our sandwiches from not being stolen whilst relaxing in the pool! The arrival at Kruger National Park meant the beginning of the Safari, this meant 5am starts to get to the park at the best time to see the animals. If it wasn't a morning game drive it was a sunset one and searching for animals in the dark, in Kruger we were lucky enough to see so many varieties of birds, a huge number of elephants, zebra's, impala's, kudu's, buffalo's, giraffes and so many more! Yes, the binoculars were handy sometimes, but other times you just couldn't believe how close these wild animals were getting! We rounded off our time in Kruger with a talk and tour with an anti-poaching hunter, and what an eye-opening experience that was!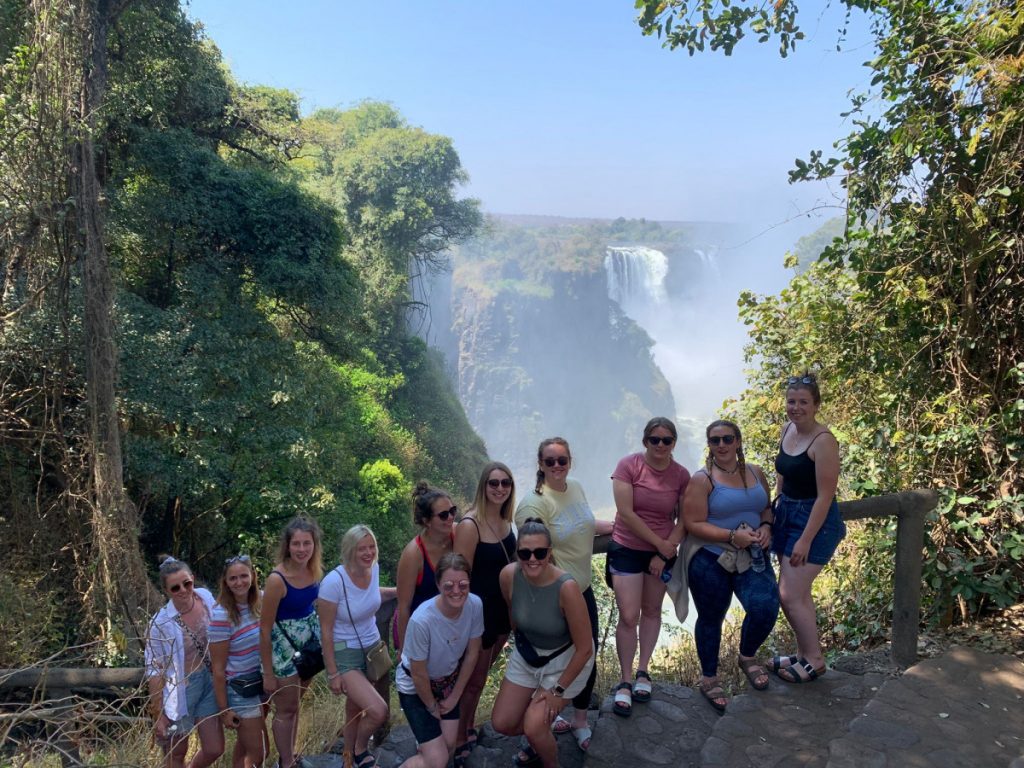 For the third part of our trip, we fluttered on the boarder of Zambia and Zimbabwe and little did we know we were moving further away from a relaxed time to an adrenaline filled 2 days! We started off easy with a walk along Victoria Falls, and all I can say is if you are ever lucky enough to visit, please take your rain coat! After visiting, you really can see why it is one of the wonders of the world, just breath taking. That night, in true YFC style we found a booze cruise with a difference, we were able to get up close to crocs, hippos and elephants in the water! With sore heads in the morning, this is where the adrenaline activities kicked in, white water rafting, helicopter rides, bungee jumping, zip lines and bridge swings! Not for those with weak stomachs. Attending a boma dinner is how we finished off our time here, a traditional African dinner with lots of meat, drums, and dancing!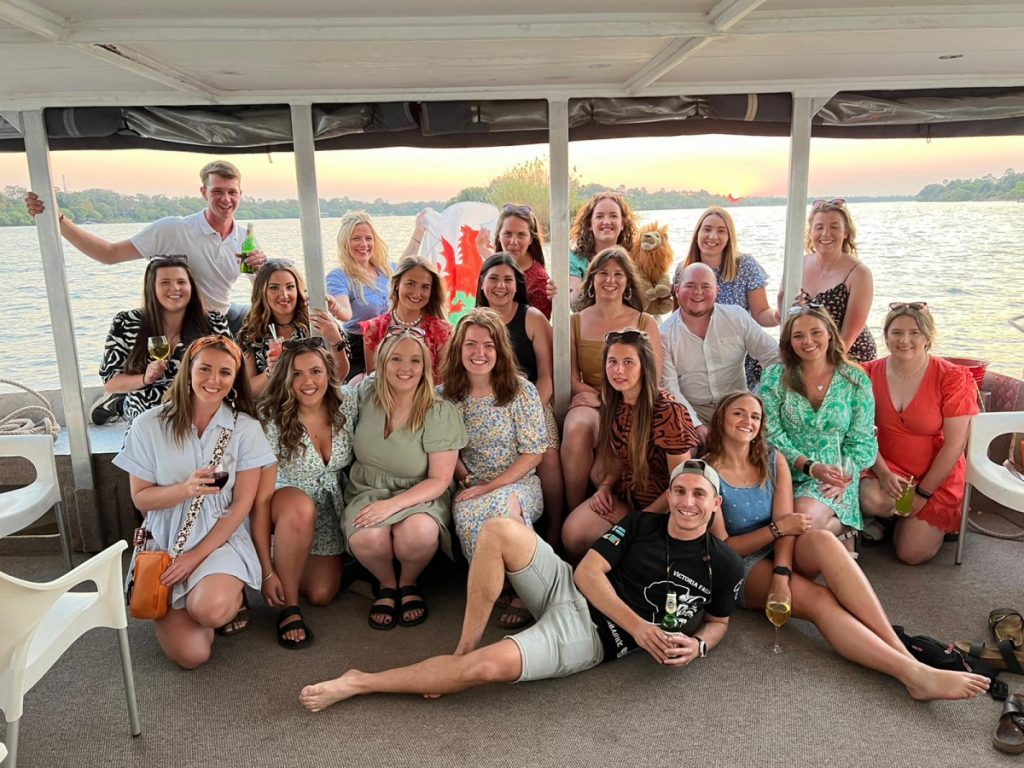 We finished our trip in Chobe, Botswana. Although a short stay, it may be one of the highlights of the trip for me. To start we went on a game drive through the park. And we were able to see lions up close eating their prey, elephants so close we could touch them, very inquisitive giraffes, and comical monkeys! If you picture the first scene in the Lion King, we saw it in real life, just WAW!! To top this off we then camped out in the wild, no security fences, just us, our tents and whatever lurked in the bushes behind. Animals roaring in the background throughout the night sent shivers down your spine.
Unfortunately waking up in the morning meant the end of our time in South Africa and time to start our long trip back home. This is only a glimpse of what we got up to, and I still can't get my head around everything we experienced in out 12 days travelling, we are so lucky! We have all made friends for life, already dates in the diary for reunions! I please just urge anyone reading this that hasn't tried for a Wales YFC to do so this year, you won't regret it! And those that have already been on a YFC trip know that this is the truth!
What an experience! What 2 weeks! What memories!
Elin Lewis, Montgomery YFC
Sailing Challenge 2022
The 5 day voyage started in Penarth Marina Cardiff and the 6 teenagers from Wales YFC aged 16-19 years old undertook all tasks from cooking, cleaning, sailing and navigating in pairs.

It was a character building experience said Mari, whereby you were expected to work as a team and follow instructions from the skipper and the professional sailing team. "It really was a great start for young people who are beginning their travelling voyages".

Cadi, Mari's twin said she felt the crew were very supportive and mindful it was their first sailing trip. Many new skills were learnt, including learning rope knots, which are transferable into day to day life. "I was initially nervous but soon relaxed as it felt safe due to the professional manner of the crew".

Elis, the youngest member of the 6 member team, gained tremendous resilience and independence and does highly recommend the experience to fellow YFC members aged 16-18 years old.

We literally have caught the travelling bug!!
Mari, Cadi & Elis, Carmarthenshire YFC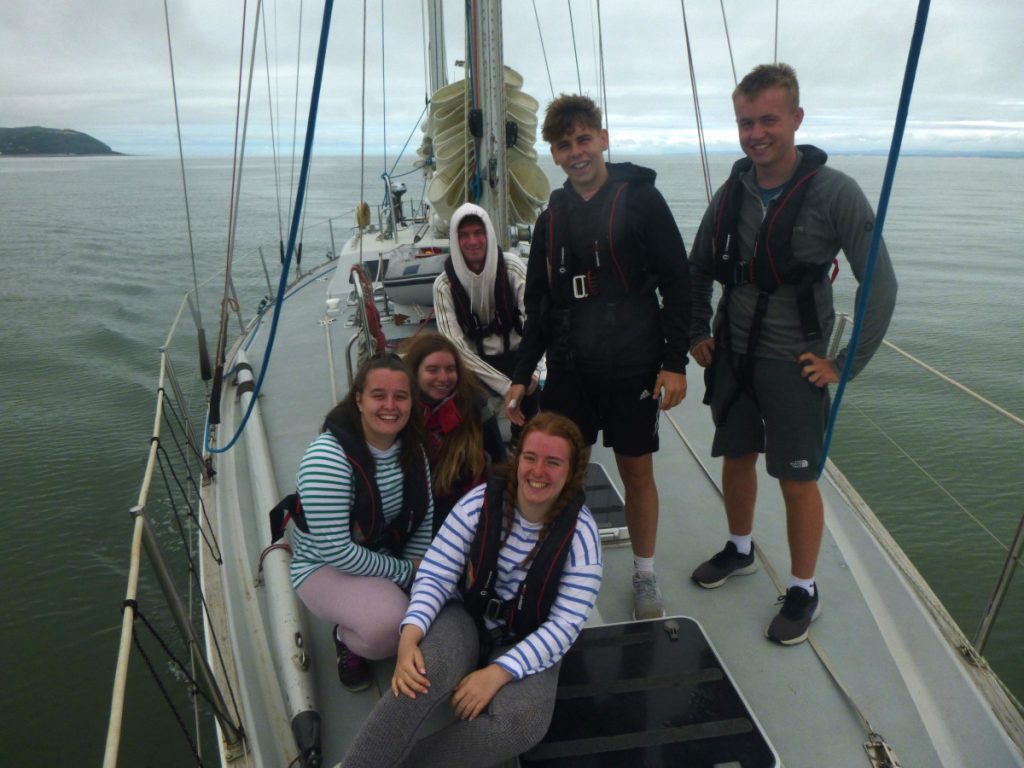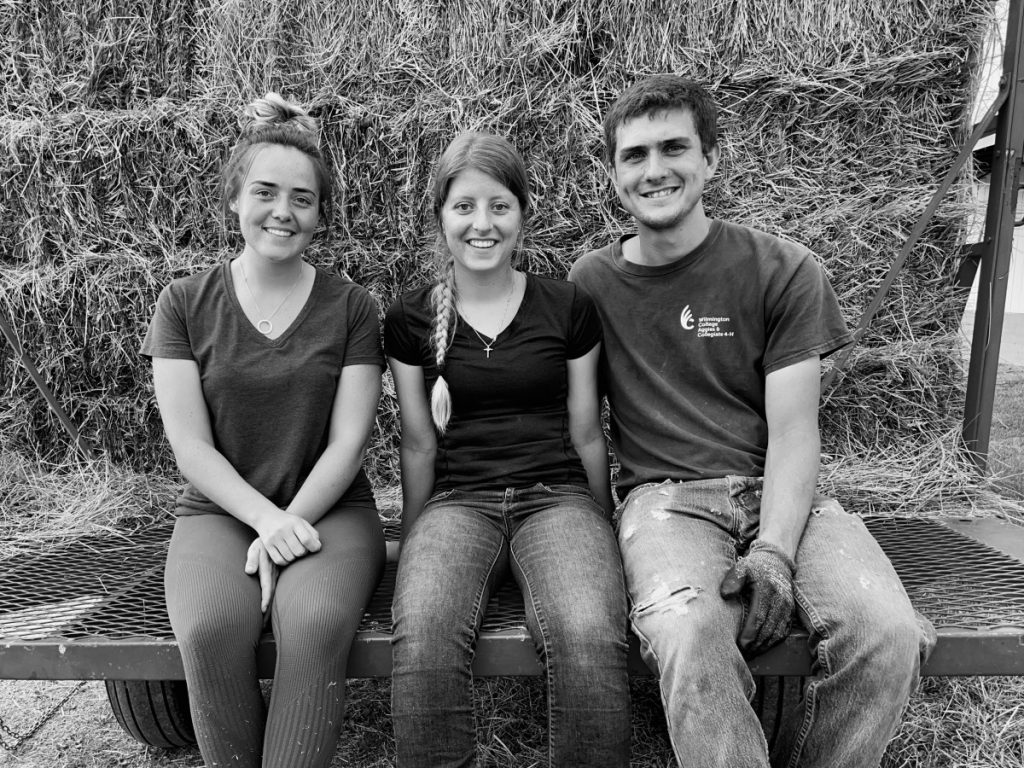 Ohio 2022
I lived with three host families in different parts of the state and whilst each provided me with completely different experiences and insights, they all gave me memories I will treasure forever.

I was very lucky to have had such wonderful host families that went above and beyond to ensure I got the most from the experience; I visited Niagara Falls and numerous state nature parks, watched Brooks & Dunn and Kenny Chesney live in concerts, walked the Rock and Roll Hall of Fame, went on boat trips and rafting trips, and spent a few days at Cedar Point. However, I was also put to work out there and spent days doing hay (in very hot weather!), helped with the daily animal chores, refurbished a hay wagon and attempted to help with fixing farm machinery, observed vet and farrier visits, baked and attended bi-weekly farmers' markets, entertained the children, and a personal highlight – assisted with preparing, smoking, and eating a Venezuelan style bbq beef brisket, which was to die for!

I learned a lot about American and Venezuelan culture, food, and history, and will forever cherish the friendships and memories I made.
Alaw Rees, Ceredigion YFC
Budapest
'I always accept an opportunity to travel to a foreign country because on every trip there is a chance to experience a different culture – this trip was no different. The Seminar was very interesting, and I enjoyed sharing my views and thoughts on sustainable food production. However, meeting people from all over Europe, who I am lucky enough to call friends now, was the real highlight. I would 100% recommend applying next year – I certainly will!'
Megan Powell, Brecknock YFC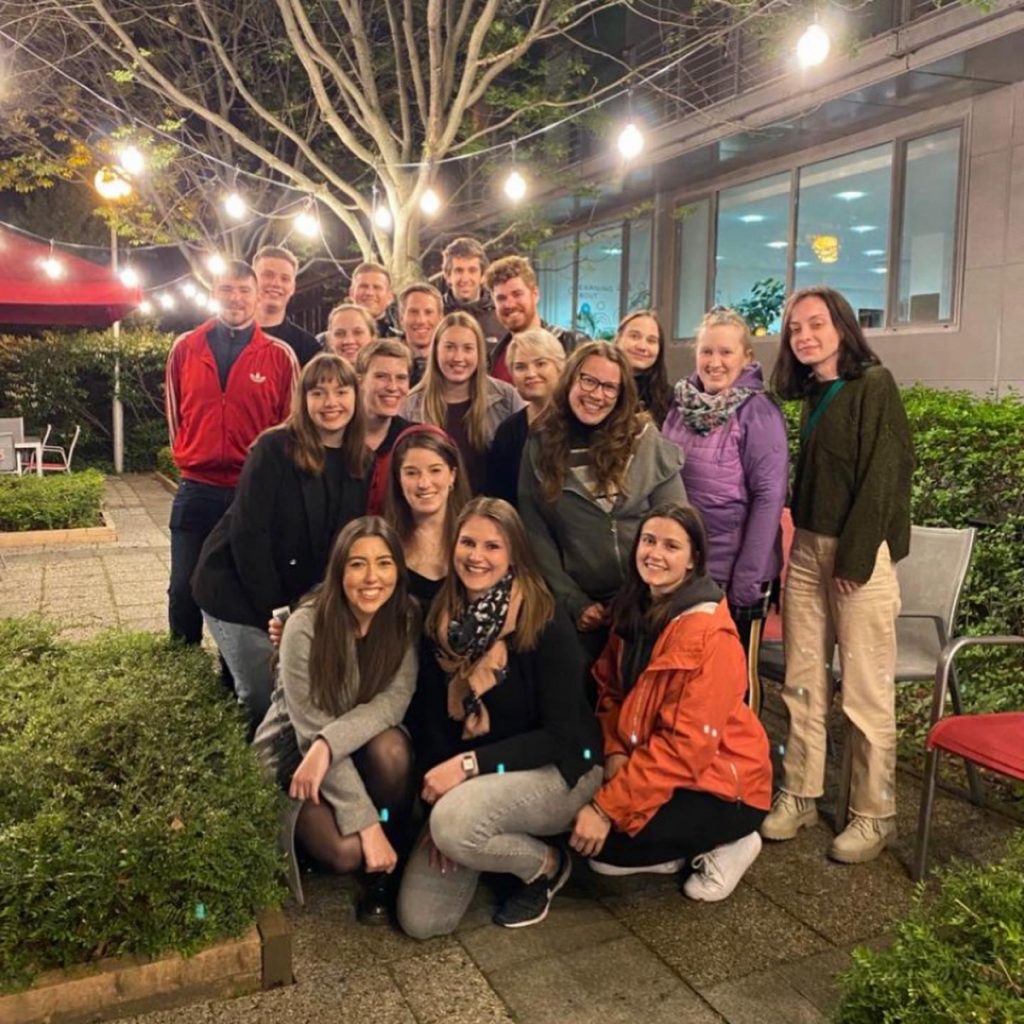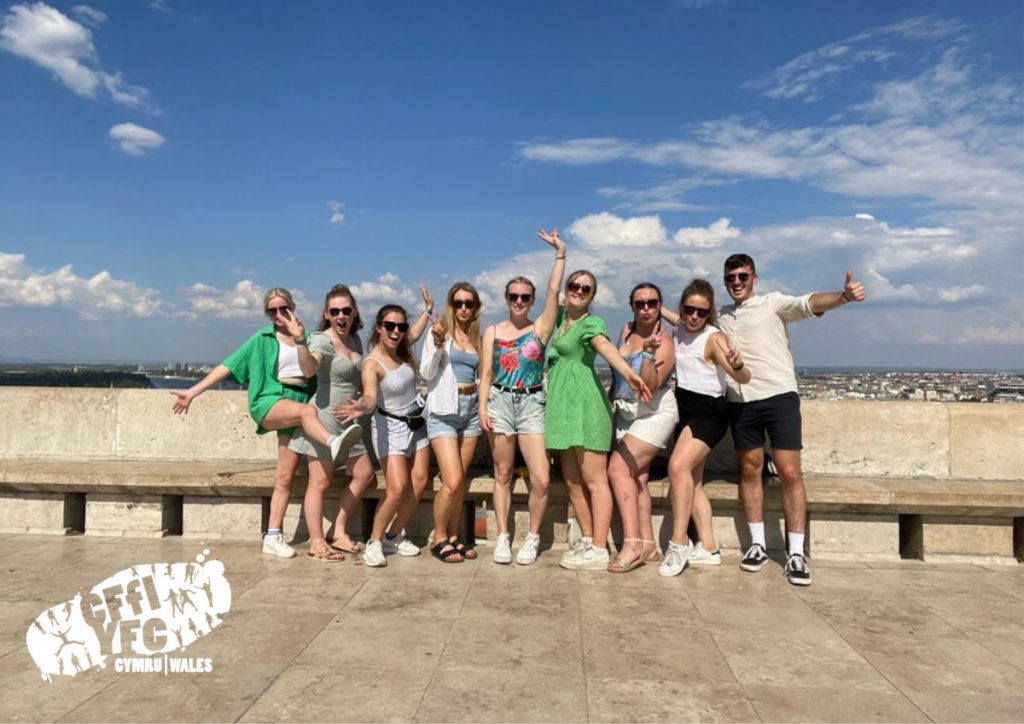 European Interrailing 2022
"9 members of the organization have been on an Interrailing trip around Europe over the last two weeks. Traveling by train from city to city, they saw various landmarks, tasted different foods and enjoyed their culture. It was an unforgettable trip and the crew encourage current members of the organization to apply for the International Programme trips."
Sioned Davies, Ceredigion YFC
RYE Rally, Nienburg, Germany 2022
"I feel grateful to have had the opportunity to lead a great YFC Wales team in the European Rally in Nienburg, Germany – what an unforgettable week! An experience I will cherish forever. Not only did we broaden our understanding of sustainable practices from across Europe, but we created lifelong friendships with participants from across the continent. Thank you to Rural Youth Europe for organizing such a great event and to Wales YFC for the opportunity to represent my club, county and country! If you haven't experienced the Young Farmers movement's overseas trips yet, what are you waiting for? Go for it! You won't regret it! "
Elen Bowen, Carmarthenshire YFC (Wales YFC Team Leader)