There are numerous opportunities with Rural Affairs if you are a member of Wales YFC!
If you want to gain more out of your membership, why not join the Wales YFC Lamb Initiative, visit agricultural enterprises on the Rural Affairs Study Tour or take advantage of the training offered to members to learn valuable skills to use everyday on farm.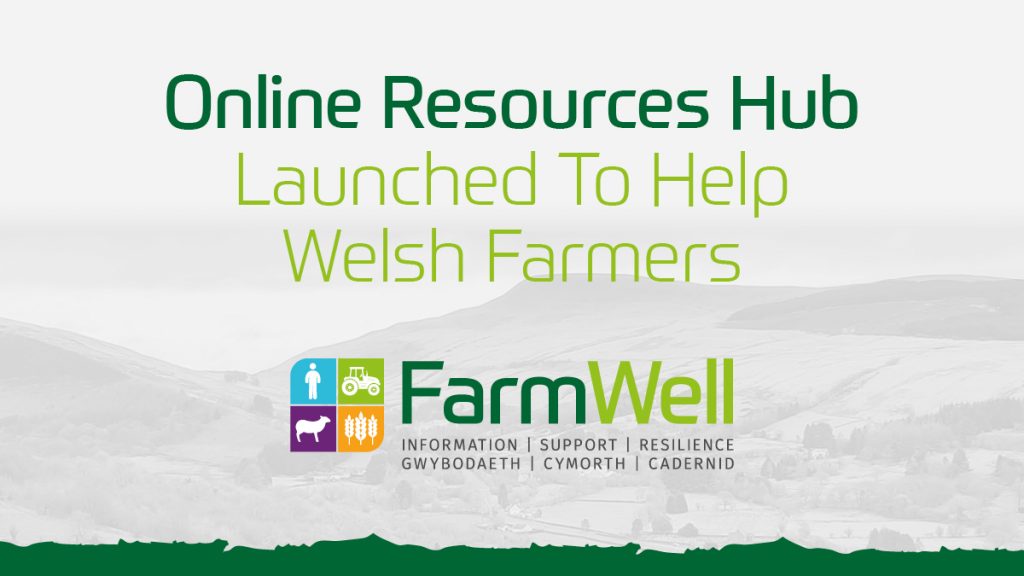 Welcome to FarmWell Wales – the most up-to-date information and support directory to help farmers and their farm businesses stay resilient through times of change and volatility. Visit the website below.
Current Opportunities
If you are interested in the rural side of YFC, there are a number of opportunities on offer for you;
MENTER MOCH CYMRU & WALES YFC PIG FINISHING INITIATIVE 
Menter Moch Cymru is an initiative that aims to support and develop the pig sector in Wales. Funded by Welsh Government through the Rural Development Programme 2014-2020, the project has partnered with the Wales YFC to provide a unique and exciting opportunity for its members to gain hands on experience of pig keeping and a chance of developing a new business venture.
Now in its 4th year, this initiative has helped many new young entrants establish their own pig enterprise. As a stepping stone into the industry, six winners will be selected and provided with 5 weaners each. Mentoring support & training will be provided to develop the skills required. From practical advice on rearing through to business skills such as marketing. Participants will have an opportunity to develop a range of transferrable skills.
The participants will also take part in an exclusive pig class at the RWAS Winter Fair or alternatively in a bespoke virtual show.
Pigs can be kept in various management systems. A general-purpose building or a parcel of land that is currently being under-utilised could easily be converted for pig keeping with little capital investment and could provide an alternative income.
Menter Moch Cymru & Wales YFC are committed to delivering the initiative in 2021, whilst abiding by restrictions as a result of the Covid-19 outbreak. As such, alterative arrangements have been made to some elements of the initiative (e.g. online training as opposed to on-farm). Participants will be notified of any further changes.
How to enter:
Stage 1 – Written Application
The application window opened on 28th April 2021. The written application should describe what factors need to be considered when setting up a pig finishing enterprise on your farm, breed selection, feeding, housing, health and welfare and marketing. Please click here to access the application form.
The closing date for written applications is 10:00 on Friday 28th May 2021. Entries are to be emailed to mentermochcymru@menterabusnes.co.uk.
Stage 2 – Interview/farm assessment
Applications will be marked independently by the judges, which include representatives from Menter Moch Cymru (MMC) and Wales YFC. All applicants will be notified no later than the 11th June whether they have been successful or not. Those that have the highest marks from the application stage will be asked to take part in the second assessment stage.
Those short-listed to go through to Stage 2 of the competition will be invited to submit a pre-recorded video that explains why they wanted to take part in the initiative and what they hope to gain from the experience. The chosen breed should be discussed and the video should demonstrate where the pigs would be kept on their farm. It should clearly show the housing and penning arrangements, feeding and watering facilities and what measures will be taken for biosecurity.
Based on the results from Stage 1 & 2, the highest scoring 6 applicants will be selected to take part in the 2021 Menter Moch Cymru & Wales YFC Pig Finishing initiative. The public announcement will be made in the summer.
The Prize
Each participant will receive 5 piglets of their chosen breed. In addition to mentoring and a comprehensive training package. Participating in the training will be a prerequisite of receiving the piglets and depending on what restrictions are in place regarding social gatherings at the time, it's most likely the training sessions will take place online.
It is hoped that the initiative will conclude with the participants taking part in the exclusive pig class at the RWAS Winter Fair where they will compete against the others for the title of best finished pig. Participants may also have the opportunity to sell their exhibiting pig during the RWAS livestock auction during the event. Please note, this may be subject to change based on the Covid-19 pandemic and alternative arrangements will be made.
Provisional timetable of events*
| | | |
| --- | --- | --- |
| Date | Activity | Further information |
| 28th April 2021 | Competition launched | |
| 28th May 2021 | Closing date for written applications. Applications to be emailed to mentermochcymru@menterabusnes.co.uk no later than 10:00am | |
| 11th June 2021 | Applicants will be notified of outcome from Stage 1 Written Application | |
| 25th June 2021 | Deadline for short-listed applicants to submit their video entries (Stage 2) | Shortlisted applicants invited to provide a video including a summary of their application and showing where the pigs would be kept on farm |
| 2nd July 2021 | Finalists notified of judge's decision | |
| Week commencing 19th July 2021 | Public announcement of the 2021 winners | Detail's tbc. The 6 winners will be requested to supply a short video for the virtual announcement |
| 4th August 2021 | Training Session 1 – Webinar introduction to pig keeping, including pig husbandry and the current legislation for pig keepers | Held virtually |
| 25th August 2021 | Training Session 2 – Webinar on pig feeding and nutrition | Held virtually |
| First week of September 2021 | Pigs delivered on farm | Dependent on restrictions |
| 8th September 2021 | Training Session 3 – Virtual meeting with previous Menter Moch Cymru & Wales YFC Pig Finishing Initiative competitors followed by a group discussion | Held virtually |
| 29th September 2021 | Training Session 4 – Webinar on pig handling and the selection and preparation of pigs for a fatstock show | Held virtually |
| 13th October 2021 | Training Session 5 – Webinar on marketing, promotion and branding | Held virtually |
| 3rd November 2021 | Training Session 6 – Webinar with a food technologist to cover the legislation on selling pork | Held virtually |
| 10th November 2021 | Dead line for the submission of the virtual show videos (tbc) | Only required if the RWAS Winter Fair show is held as a virtual show |
| 24th November 2021 | Meeting to announce the results to the competitors in advance of the public announcement | Held virtually. Only required if the RWAS Winter Fair show is held as a virtual show |
| 29/30th November 2021 | Exclusive Menter Moch Cymru & Wales YFC Pig Classes at RWAS Winter Fair Show and announcement of overall winner of the competition | Detail's tbc |
*Dates may be subject to change
Who can take part?
The following criteria must be met in order to participate in the scheme:
The applicant must be a member of the Wales YFC
The YFC member must reside in Wales
The pigs must be reared on a holding that is registered in Wales
Aged between 16 and 26 years old
The YFC member will be the main contact and will be responsible for participating in the development programme & rearing the pigs
Applicants must be new to pig keeping. The individual must not have taken part in a commercial pig enterprise previously.
Terms & Conditions
Closing date for entries is 10:00am on the 28th May 2021.
Entries will be considered by a panel of judges who will draw up a shortlist of those with the highest scores from Stage 1. Those shortlisted will be invited to demonstrate that the facilities are suited to the business plan they submitted.
The prize will be five weaned piglets for each of the total highest scoring six entrants from Stages 1 and 2.
Applicants must provide details of three alternatives pig breeds/types as per the application form. The project will aim to supply the stated breed preference subject to availability. If it is not possible to source suitable pigs from the first breed of choice then pigs from the second or third choice outlined will be sourced.
Each winner will receive ongoing mentoring and support from MMC development officers
Participants will be responsible for rearing the pigs to industry standards (e.g. ensuring health and welfare requirements are met). Guidance on this will be provided.
Participants will be responsible for providing the food for the pigs and ensuring the diet is adequate and that fresh water is available at all times
Strict biosecurity measure and protocols must be observed
In the event of pigs becoming sick the applicant must seek veterinary advice immediately and inform their MMC mentor
The winners will receive the funds raised through the subsequent sale of the finished pigs/pork
The purpose of the initiative is to provide the participants with an opportunity of developing a commercial pig herd and their own business venture. Therefore, the finished pigs cannot be kept for their own domestic consumption.
The six winning competitors will be required to record the progress of the piglets and submit information on weight gain, health and feed intake along with photographs to their MMC mentor on a monthly basis.
Participants must participate in the exclusive live pig class at the RWAS Winter Fair
In addition to the set compulsory training programme all participants will be invited to attend MMC's open meetings and training sessions.
MMC reserve the right to visit the pigs at any point throughout the competition and take appropriate action where required (subject to restrictions regarding Covid-19)
Participants must consent to being included in PR activity for the initiative
For further details please email mentermochcymru@menterabusnes.co.uk or phone 07397 068739.
Lamb Initiative
About the Scheme
The Wales YFC Lamb Initiative is a partnership between Dunbia (Llanybydder), Sainsbury's and Wales YFC. The partnership provides the opportunity for Wales YFC members to supply their Welsh lamb to Welsh Sainsbury's stores at a premium price all year round.
The aim of the scheme is to work with a forward thinking processor and retailer to attract Wales YFC members who produce lamb to become suppliers and to keep Young Farmers at the forefront of the industry. Ultimately the initiative is about creating a sustainable supply chain to help support the future of rural Wales.
Why should you get involved?
The scheme creates an income stream for the movement, as Sainsbury's directly contribute 40p per lamb sold (on top of the price that you receive) to Wales YFC. 10p of that goes directly to your County Federation.
Information Sheet and Entry Form available from the Resources section
Llyndy Isaf Scholarship
Take a step onto the farming ladder
Llyndy Isaf is a 614 acre upland livestock unit in the Nant Gwynant Valley, Snowdonia owned by the National Trust Eryri. The Llyndy Isaf Scholarship is a partnership between National Trust Eryri and Wales YFC which gives a Wales YFC member the opportunity to run the farm for a year.
2017/18 Scholarship
The fifth Llyndy scholar was announced on Monday the 24th of July 2017, during the Royal Welsh Show as Teleri Fielden, from Meifod.
Teleri started her 13 month paid scholarship on the 614 acre upland farm located in the Nant Gwynant Valley on the 1st of September 2017 for a period of 13 months until the 30th of September 2018.
Some of our past scholars:
2016/2017 – James Evans, Radnor
2015/2016 – Owain Jones, Eryri
2014/2015 – Tudur Jones, Eryri
2013/2014 – Caryl Hughes, Montgomery
Elwyn Jones Memorial Scholarship