News
Rural Affairs Rundown
Wales YFC keeps Rural Affairs at the heart of the movement, and we were excited in September to welcome Lee Pritchard to our team. The study tours were then re-introduced, with the 2022 destination announced as Cumbria including visits to HJ Lea Oakes, Beckside Farm and the Crystalyx Factory to name a few.
The Menter Moch competition continued this year, with the six winners announced at the 2022 Royal Welsh Show and are as follows; Rebecca John (Pembrokshire YFC), Carys Jones (Camarthenshire YFC), Rhys Morgan (Glamorgan YFC), Leah Davies (Clwyd YFC), Frances Thomas (Brecknock YFC) and Alis Davies (Clwyd YFC). These winners have each been given five weaners to rear and the overall champion is to be announed at the Royal Welsh Winter fair next month. We would like to thank Menter Moch Cymru for their continued support in allowing us to hold this competition.
Wales YFC will also be attending this years Wynnstay Beef and Sheep event on the 2nd of November. We would be delighted if you came to see us to learn more about what's going on in the coming weeks, including our exciting re-launch of a Winter fair competition where one lucky member can win the use of a Quad Bike for a year! At the Royal Welsh Winter Fair Wales YFC also offers a unique opportunity to compete within the 'Baby Beef' and 'Prime Lamb' competitions, open to members over 14 years of age from Wales, Herefordshire, Shropshire and Cheshire federations.
Wales YFC have been fortunate enough to maintain a strong partnership with Dunbia and Sainsbury's through our Lamb Initiative. Members are given the opportunity to supply Welsh Lamb to Welsh Sainsbury's stores at a premium price all year 'round. The aim of the scheme is to work with a forward thinking processor and retailer to attract Wales YFC members to become lamb suppliers and to keep Young Farmers at the forefront of the industry. We were fortunate enough to be able to serve lamb from this scheme at the Presidents' luncheon at the Royal Welsh Show to kick start the exciting year ahead of us, as our Lamb Scheme celebrates 15 years since its launch!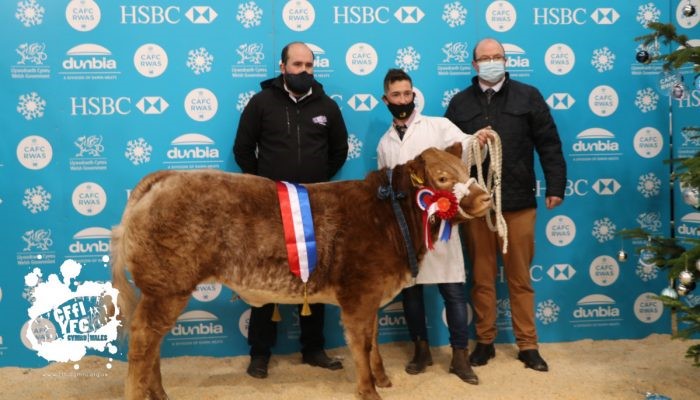 We are now commencing our new YFC year with many opportunities on the horizon, including the YFC Wales National Eisteddfod, where our members will take to the stage and our Chairing and Crowning ceremonies will be held. We would like to wish all YFC members good luck for the coming year and encourage anyone who is not already a member to join!