News
Wales YFC Agri23 Weekend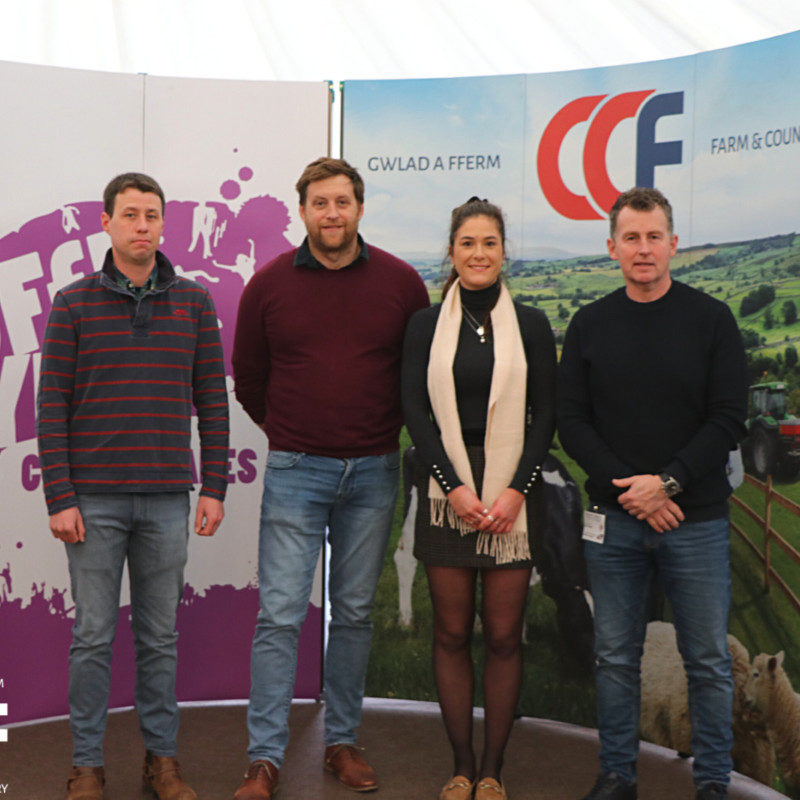 Guest Speakers (Left to Right): Rhidian Glyn, Llyr Jones, Rebecca Wilson & Nigel Owens MBE
On Saturday the 14th of January 2023, Wales YFC held their seventh Rural Affairs Conference kindly sponsored by CCF. The location this year was the picturesque venue of Plas Isaf, Corwen.
'Farming Journeys' was the theme of this year's AGRI23 Conference and they were certainly taken on some very difference paths throughout the day. Another theme that was touched on throughout the day was mental health.
The Federation were told that it was very 'humbling' to hear guest speaker, Nigel Owens MBE, speak with the upmost honesty on his own struggles with mental health. They also heard of his farming journey from the age of sixteen and how that was put on hold to pursue his passion for refereeing rugby. After achieving a World Record for his 100th International Test Match, he then returned to farming as he built his Mairwen herd of Pedigree Hereford Cattle.
The second speaker of the day was Llyr Jones 'Derwydd' who spoke of how he utilises resources from his own farm to generate energy and how puts the excess is brought back into the business to make it more sustainable. A wide range of renewable energy projects at Derwydd means all its electricity is green. His hydroelectric plant uses water from a stream to produce enough energy to run 26 homes for a year. A ground source heat pump heats his egg unit, keeping the hens warm, air source pumps heat the farmhouse and holiday cottage, and solar panels also produce electricity exported to the grid. His determination and hard work has allowed him to grow his business, very successfully, with many new ventures planned for the future.
The Federation then welcomed Rhidian Glyn, who spoke of his journey that was different from our previous speakers' in that he didn't have a farming background. However, he has since successfully built his farming business from just 15 Welsh mountain ewes in 2008 to securing a 10 year farm business tenancy at Rhiwgriafol and has grown to a flock of 850 ewes and 250 replacements. He has also established a dairy herd of which he will be milking for the first time this spring.
The final guest speaker of the day was Rebecca Wilson, a fifth generation farmer from Yorkshire and one of the presenters of Farming 'Boots and Heels' podcast spoke about her journey from a young child growing up on farm to then achieving a degree at University of Cambridge in Human, Social and Political Science to then moving on to a masters at the Royal Agricultural University. Rebecca then worked within the sector but eventually went back to farming and is now managing her family farm alongside her father and sister. Rebecca has a very big following with her podcast, Instagram and YouTube channel and is doing an excellent job showcasing what British Agriculture is all about.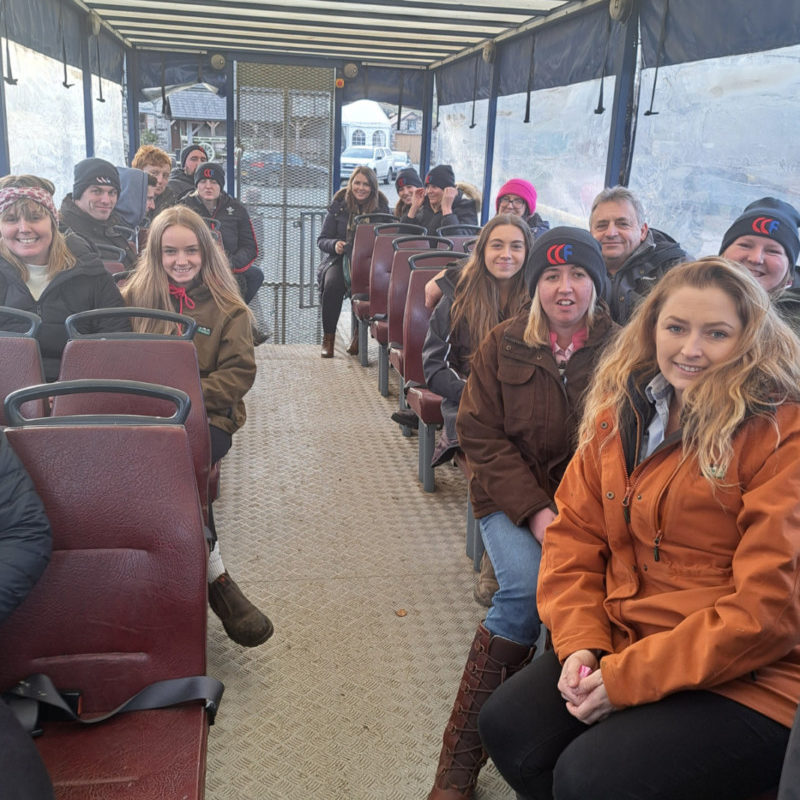 Wales YFC Members on a farm tour around the Rhug Estate
That Afternoon, the conference attendees split into two groups; one group stayed in Plas Isaf, while the other group ventured on a farm tour of the Rhug Estate, kindly lead by Gareth Jones. Members went around the Estate on their transport trailer were told the story of how Rhug has developed and changed in the last 30 years, under the Ownership of Lord Newborough.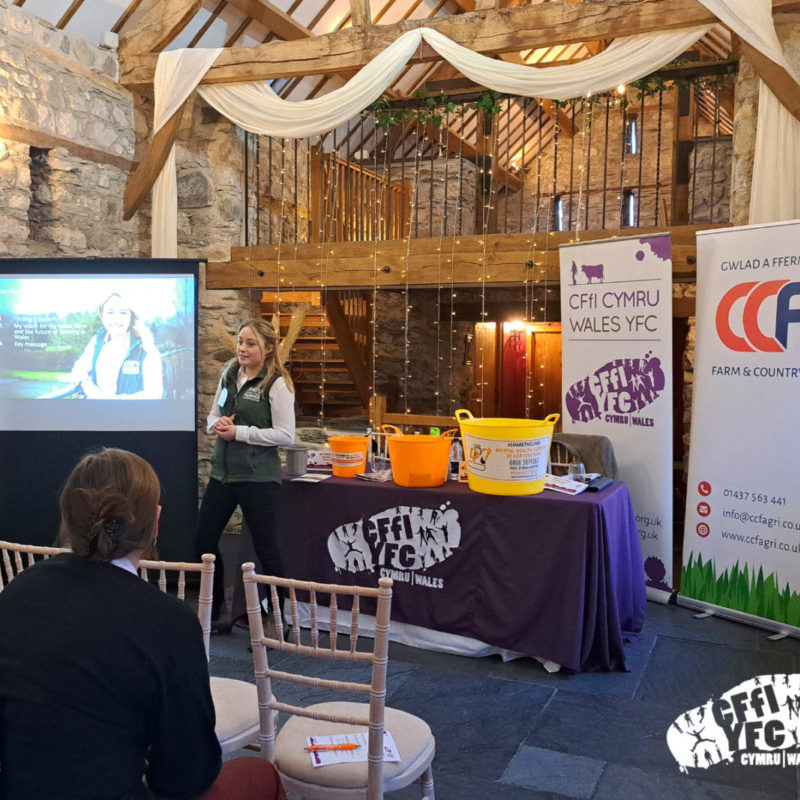 NFU Cymru Next Generation Ambassador, Erin Mcnaught, leading a breakout session.
Meanwhile the other group attended an afternoon session of speakers; Helen Roberts and Caryl Hughes from the NSA, NFU Cymru Next Generation Ambassador Erin Mcnaught, Kate Miles from The DPJ Foundation and Angharad Thomas, FUW. These sessions were all about organisations that help young people within the agricultural industry and some touched on the struggles that young people can endure during this process.
The day was drawing to a close with David Evans, Chief Executive of CCF gave some closing remarks on how well the day had gone and how pleased CCF were to be sponsoring the conference for the 7th time and he looked forward to doing the same next year. Wales YFC would like to give their sincere thank you to CCF for their continued support, it is truly valued, the conference wouldn't be what it is today without their support.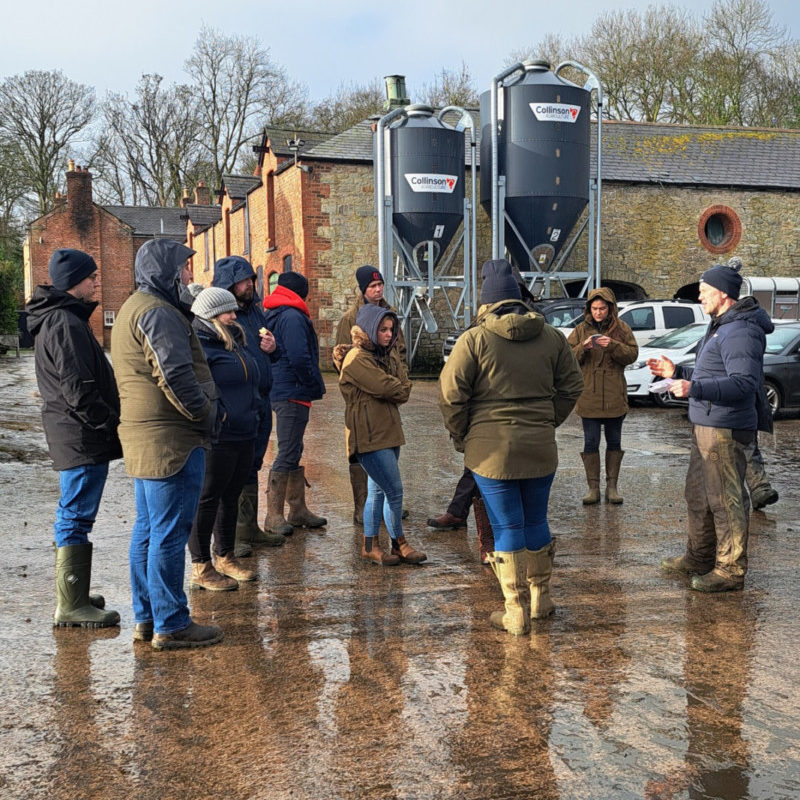 Wales YFC Members on a farm tour at Ty Newydd Farm
On Sunday, the 15th of January, members from Wales YFC then attended a farm tour with the Ellis Family of Ty Newydd, Trefnant. Rhodri and his wife Agharad, along with their four children, kindly welcomed the group of young farmers to their farm. Rhodri and Angharad started Contract Farming in 2006 and purchased 250 organic Holstein-Friesian herd in Rhydycilgwyn, Ruthin. They were given notice to leave Rhydycilgwyn in 2012 because of illness of the farm owner. And were then lucky enough to gain the opportunity to move to Ty Newydd in March 2012. They sold their 250 heads of cattle and purchased 250 spring calving cross-breed heifers. They now have a contract with Arla Organic McDonalds milk, milking 950 across two units. They also have a conventional herd milking another 270 cows. This is a very busy and forward-thinking farm and they are always striving to help young families get onto the ladder, just as they did by employing local farm hands and herd managers. We would like to take this opportunity to thank Rhodri and his family for their warm welcome to Ty Newydd and wish them all the best in the future.
All in all, this was a hugely successful event, with members learning a lot about the variety of farming paths there are. And they hope that the Federation can continue to build on this success in the future.