News
YFC PARTNERSHIP LAUNCHED WITH QUAD BIKES WALES
---
Working in partnership with Quad Bikes Wales, the Wales Federation of YFC recently launched a new quad bike challenge with the winner receiving a new Honda bike courtesy of the South Wales authorised dealer.
Wales YFC are also pleased to be working as a partner within the Wales Farm Safety partnership. The partnership aims to raise awareness of Health and Safety challenges, implications and how to work safely.
Speaking on behalf of the YFC's Rural Affairs committee, Lee Pritchard noted "As an active member of the Wales Farm Safety Partnership, Wales YFC is committed to raising awareness of farm safety and through this new competition we focused our attention on educating young people on the importance of on farm quad bike safety".
Working with experienced judge Mr Byron Evans of Glamorgan members were challenged to undertake a bike challenge, as well as completing a safety questionnaire.
With the prestigious prize of a Honda Quad Bike for one year up for grabs, along with a safety helmet for the winner and runners up, members from all over Wales competed in the challenge, with Radnor member Lloyd Hammond winning the coveted prize. Cennydd Jones and William Jenkins of Ceredigion YFC were noted as being worthy runners up.
Wales YFC extends its grateful thanks to Quad Bikes Wales and Max Herbert in their support of this new competition, Brian Rees of the Wales Farm Safety Partnership and Byron Evans for overseeing the judging.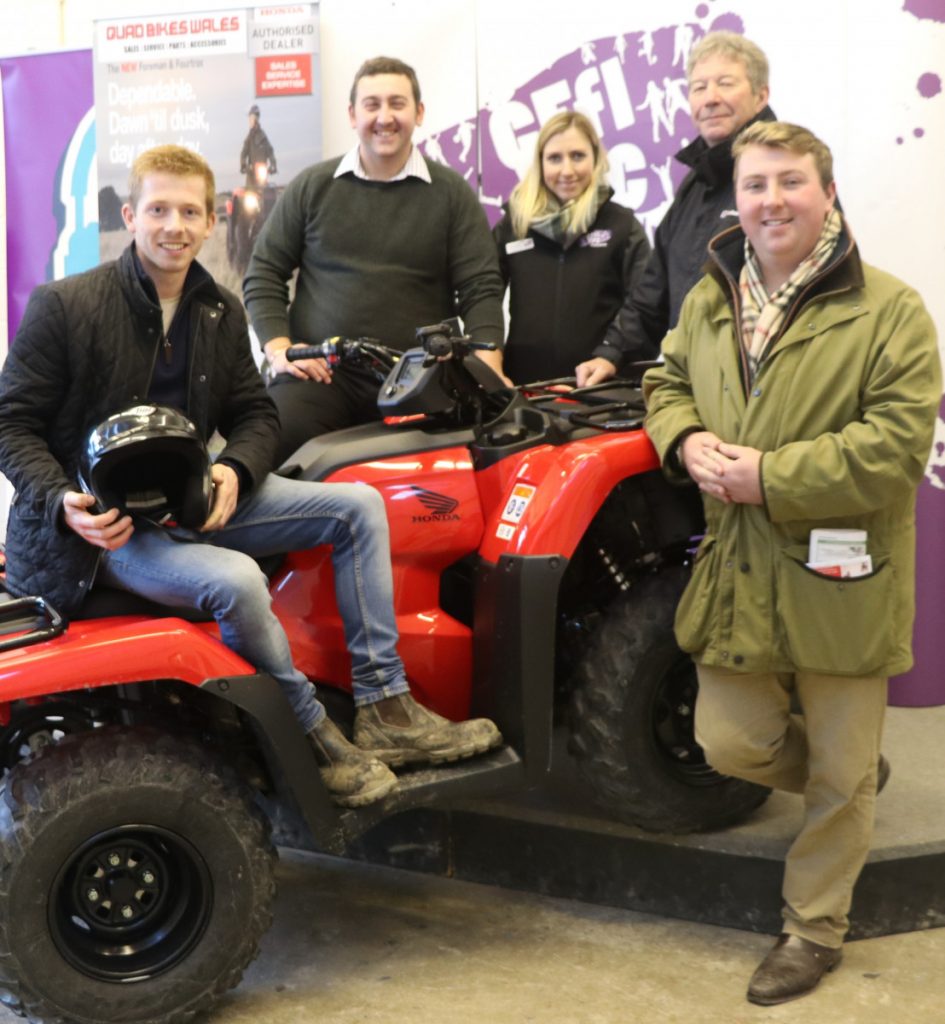 Photograph – Quad Bike presentation Left to Right;
Lloyd Hammond, Radnor YFC; Lee Pritchard, Chairman of Wales YFC Rural Affairs committee; Non Williams, Vice Chairman of Wales YFC Rural Affairs committee; Brian Rees, representing Wales Farm Safety Partnership and Max Herbert, Quad Bikes Wales.